Δείτε εδώ την παλυβραβευμένη animation ταινία "Είμαι δυσλεκτικός" (Vid) :
Η ταινία μικρού μήκους I AM DYSLEXIC
εκφράζει τα συναισθήματα των παιδιών με μαθησιακές δυσκολίες και πως τα αντιμετωπίζει το σχολικό σύστημα..


Ένα δυσλεκτικό παιδί σε έναν κόσμο φτιαγμένο εξ ολοκλήρου από βιβλία. Μόνο του μέσα σε αυτό το περιβάλλον, αναγκάζεται να αναρριχηθεί σε ένα βουνό που αντιπροσωπεύει το εκπαιδευτικό σύστημα.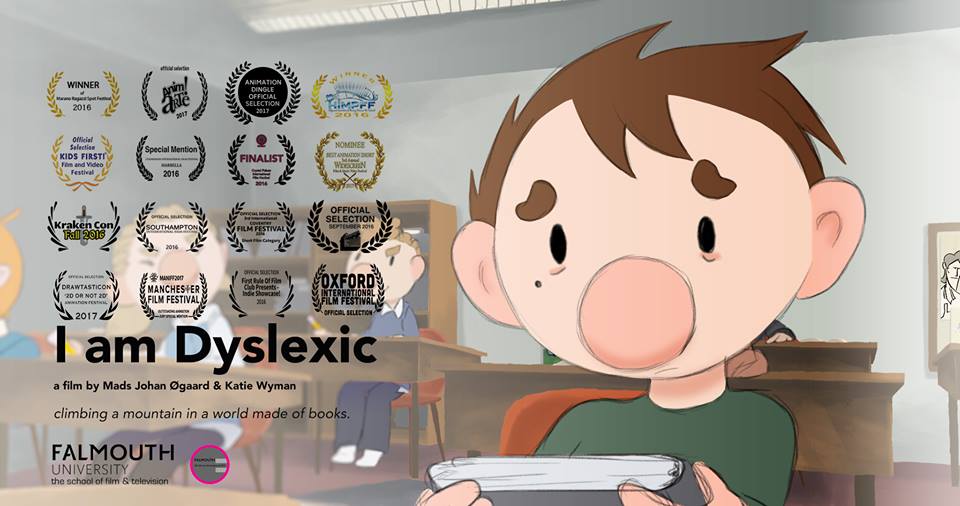 A young dyslexic child falls into a world made entirely out of books.
Alone in the environment, he is forced to climb a mountain representing the education system. The animated short film I AM DYSLEXIC expresses what it feels like to have a learning difference in our current school system.
Those with learning differences should be proud of who they are and should never be made to feel alone. The film uses strong metaphors to portray these emotions, as we follow a little boy in his journey to climb a mountain in a world made of books.
I AM DYSLEXIC is a student animated short directed, produced and written by Mads Johan Øgaard and Katie Wyman.
We are both Dyslexic and have both experienced different ways in which the school system tries to deal with dyslexic students, the good and the bad. We have made this film in the hopes of giving individuals who experience learning difference something to relate to. Something to say; "Yes, this is a tough journey, but you're not alone and you can overcome the struggle!".
This is content that many of us did not have growing up. Hence why we want as many people to see this film as possible, in the hopes it will give someone the courage to keep going.
Share it with the world!
CREDITS: I AM DYSLEXIC - (short film completed Jul 2016).
• Directed & Produced by - Mads Johan Øgaard and Katie Wyman.
• Music by -Mari Hajem
• Sound Production: Thomas Bottolfsen, Eivind Hajem and Åsmund Røst Wien
• 3D Team: Ben Langham, Phillip Banko, Joseph Chalmers, Aaron Donlon, Juraj Tomori, Holly Herbert, Josh Wibberley, Andrea Patruno.
• 2D Team: Clara Anganuzzi, Prawta Annez, Anna Bohac, Philippa Borman, Becca Bright, Grayling Breckon, Rachel Denton, Hannah Edge, Gregory Edwards, James Folland, Leigh Juggins, Naomi Hayes, Holly Herbert, Becky Hill, Elisabeth Horne, Pippa Humphrey , Sam Humphreys, Christopher Hunt, Anni Kaikkonen, Tim Lewis, Kathryn Man, Alasdair Montgomery, Becky Moritz, Elitsa Nedyalkova, Robin Neylan-Francis, Ryan Orgill, Luke O'Sullivan, Karolina Papp, Luke Platt, Connor Schrader, Alice Seatherton, Kiah Seifert-Craggs, Sam Stainer, Rebekah Truscott, Thomas Wallis, James White and Lucie Zix.
• VFX Team: Calum Meyer, Kylie Kamanga, Chris Lewin, Harry Orford, Rob Owen and Dominic Taylor.
• Additional Contributors: Martin Burn, Judy Helene Fagernes, Sophie Rippington FALMOUTH UNIVERSITY - 2016
More of us: Mads Johan Øgaard:
Website:
https://www.madsjohanogaard.com
Instagram:
https://www.instagram.com/madsjohanog...
Twitter:
https://twitter.com/MadsJohanOgaard
Facebook (art):
https://lnkd.in/dVKymRj
Katie Noel Wyman:
Website:
www.katiewyman.co.uk
Instagram:
https://www.instagram.com/bonzlydoo/
Twitter:
https://twitter.com/BonzlyDoo
The musician Mari Hajem:
Facebook:
https://www.facebook.com/marihajemmusic/
Twitter:
https://twitter.com/Marihajem
SoundCloud:
https://soundcloud.com/mari-hajem
Spotify:
https://goo.gl/LM5KwT
I AM DYSLEXIC's Social Media:
Twitter:
https://twitter.com/IAMDYSLEXICfilm
Facebook:
https://goo.gl/Rr2uaL
Vimeo:
https://vimeo.com/248179200
Αναδημοσίευση από enallaktikos